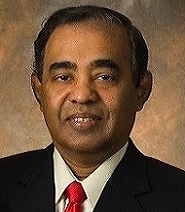 Pastor Thomas Samuel Kappamammoottil is a well known Christian Author and Counselor. For eighteen years, he served as the pastor of the Bahrain Pentecostal Assembly in the Kingdom of Bahrain. He is a native of Ranni in Pathanamthitta district of Kerala. He emigrated to the United States of America in January 2007 and has been the pastor of the Bethel India Pentecostal Church of Arizona since then.
He Graduated in Economics from St. Berchuman's College, Changanacherry, and earned his post-graduation in Sociology and a post-graduate diploma in Journalism from Maharashtra. His journalistic stints include the Bhavan's journal, a fortnightly, and in the daily News Papers, The Daily and the Indian Shipping and Transport News. He was in the Kingdom of Bahrain for almost two-and-a-half decades in connection with his secular job in the printing and advertising field as well as spiritual ministry.
On November 25, 1988, he was appointed as the Associate Pastor of the Bahrain Pentecostal Assembly. On June 16, 1989, he became the pastor of the church and he continued in that position till he left for Arizona on January 23, 2007. He also served as the President of The Middle East Pentecostal Church, a gathering formed in 1990 for the unity of Pentecostal believers on the island, having the same doctrine.
His first article was published in the Zion Trumpet when he was 12 years old. For the past three-and- a half decades, he was continuously writing in newspapers as well as other publications like Malayala Manorama, Good News Weekly, The Trumpet, Cross and Crown, Maruppacha, Maranatha Voice etc. His first book, 'Charithram Spandhikkunna Golgotha' (The echoes of history on Golgotha) was published by GoodNews Publication in 1987 and reprinted in 2007 by Maruppacha.
Pastor Thomas Samuel is the son of late Pastor M T Samuel and Mrs. Elsie Samuel. Pastor M T Samuel was the founder of The Bahrain Pentecostal Assembly. He was in Bahrain for almost three-and-a-half decades in connection with his secular job as well as his spiritual ministry. Pastor M T Samuel was promoted to glory in 1996.
Pastor Thomas Samuel's wife Titu (Gladys Thomas) is from Kizhakkethekkattil family, Kallissery and they have three children: Samuel, Olive, and Joshua.