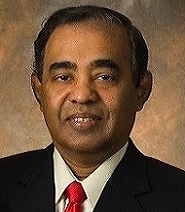 Pastor Thomas Samuel, widely known as Teeyes Kappamamoottil, is a preacher, Christian author, freelance writer and columnist. Along with his secular job, he also served as the senior pastor of Hebron IPC, Bahrain (formerly known as Bahrain Pentecostal Assembly) for 19 years. On several occasions, he shouldered the responsibility as the President of The Middle East Pentecostal Church, Bahrain, a spiritual organization represented by various Pentecostal denominations in Bahrain having the same doctrines.
He immigrated to the USA in January 2007 and served 6 years as the Pastor of the Bethel India Pentecostal Church, Arizona.
After completing his graduation in Economics from St. Berchuman's College, Changanacherry, he earned his postgraduation in Sociology and a post- graduate diploma in Journalism from Maharashtra. Subsequent to attaining intensive training in news reporting, creative writing and editing from publications like The Bhavan's Journal, The Daily and the Indian Shipping & Transport News, he arrived in the Kingdom of Bahrain. He was in Bahrain for almost two-and-a-half decades in connection with his secular job as well as his spiritual ministry.
His first article was published in the Zion Trumpet when he was 12 years old. For the past five decades, he is continuously writing in various publications. His first book, Charithram Spandhikkunna Golgotha (ചരിത്രം സ്പന്ദിക്കുന്നഗോൽഗോഥാ) was published by Good News Publication in 1987 and reprinted in 2007 by Deepthi Publications, Thiruvalla. Later, two more books were published, Anuranjanangalude Idathavalangal (അനുരഞ്ജനങ്ങളുടെ ഇടത്താവളങ്ങൾ) and Vishvasahithyathile Anashvarasamgeetham (വിശ്വസാഹിത്യത്തിലെ അനശ്വരസംഗീതം). Vishvasahithyathile Anashvarasamgeetham, an exposition of the first two verses of Psalm 23, won the award of Pentecostal Writers' Forum of North America for the best Christian book published in 2017.
He also has a Facebook Discussion Group, Aksharangalude Athbhuthalokam (അക്ഷരങ്ങളുടെ അത്ഭുതലോകം) and a YouTube channel, Marubhoomiyile Neeruravakal (മരുഭൂമിയിലെ നീരുറവകൾ).
Pastor Thomas Samuel is the son of late Pastor M T Samuel (founder of Hebron IPC, Bahrain) and Mrs. Elsie Samuel. Late Pr. & Mrs. K.E Thomas, Kappamamoottil, grandparents of Pastor Thomas, were pioneers of the Pentecostal movement in India and served the Lord in Trichy in Tamilnadu in the initial years of their ministry.