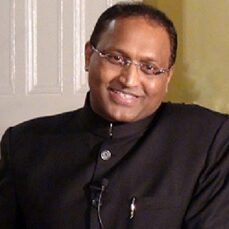 "For I am not ashamed of the gospel of Christ: for it is the power of God unto salvation to every one that believeth…" Romans 1:16.
Pastor Samuel Thomas is a faithful servant of God, missionary, motivational speaker, visionary, devoted to reaching out to the lost through communicating powerful biblical truths in simple ways. Born in Itarsi M.P. India, Pastor Samuel was raised in a Pentecostal Christian household. He is the grandson of Pastor Anchanattu Oommachen and Pastor K. G. Mathew who were pioneer ministers, part of the renowned Pentecostal movement associated with the India Pentecostal Church of God (IPC), in Kerala, India.
Pursuing his studies, Pastor Samuel completed his Master of Commerce in M.P. India and subsequently moved to New Delhi for five years, where he worked and captured every opportunity in reaching out to people with the gospel of Jesus Christ and through music. In 1990, Pastor Samuel moved to Saudi Arabia. Alongside his secular job, he started his ministry by serving, preaching, and establishing two underground churches. He married Mercy Thomas and resided in Saudi Arabia till 1998. He proceeded actively ministering to various churches and undertaking outreach to the people living in slums of the city of Mumbai, India from 2000 to 2002. The Lord blessed Pastor and Sister Mercy with two wonderful children, Sharon, and Steve Thomas.
In 2003 along with his family, Pastor Samuel moved to the United Kingdom with a clear vision and commission of Jesus Christ to spread the message of Salvation. Here, he founded and served as the Senior Pastor of MCBA for 16 years, where God empowered him with His divine gifts to reach, teach, train, equip and bring souls from every background, baptizing them, and showing them the path of eternal life through God's word. In 2005, he completed his theological studies at World Harvest Bible College, United Kingdom. Envisioning a cross-cultural ministry, God enabled his servant and Church to engage in missionary gospel outreach to Romania where the love of Christ and biblical discipleship was witnessed to many families, leaders of different denominations, businessmen and women, city mayors, and different churches.
Pastor Samuel and his family currently reside in the United States of America.