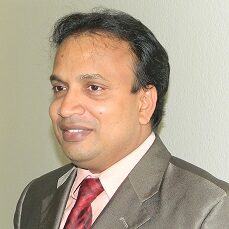 Pastor Manu Cherukara Thomas surrendered to the call for the ministry of the Lord when he was nineteen years old. After completing a Bachelor of Divinity from Manakala Faith Seminary, he acquired a Diploma in Clinical Pastoral Counseling from TMA Institute of Counseling, and a Master of Theology from Federated Faculty for Research in Religion and Culture in India. He also had the opportunity to further his studies in Transactional Analysis Counseling and NLP, under TSTA Sr. Annie Maria.
From 2002 to 2006, he worked with Prison Fellowship India as their Clinical Pastoral Counselor. He moved to Doha-Qatar where he served the Lord at New India Church of God with his brother-in-Law, Pastor Reji Kurian who was the Chief Pastor. In 2009 he served the Indian Pentecostal Community in Qatar as the General Secretary of Qatar Malayalee Pentecostal Congregation.
In 2011, he migrated to the United States and settled in Lawrenceville, Georgia. He worked in the Church as a lay minister in Full Gospel Church of God, under Rev. Dr. C. V. Andrews. In August 2012, he moved to Mesa, Arizona. He is a Level II CPE Chaplain and completed his residency program with Banner Desert Medical Center. He was advised by the Holy Spirit on the Lord's mission in Arizona, and surrendered to that call as the church invited him in 2012. He also works as a Chaplain with Arizona Department of Corrections, and lives in Gilbert with his wife Siji and their two daughters.